The Courts of San Andreas (also called the Judiciary or the Court System) is the judicial branch of the Government of San Andreas that applies and interprets state and federal law and adjudicates disputes. It is a unified court system, and comprises of two divisions, namely the single Supreme Court and the various geographical superior courts, the latter of which consists of three divisions: a civil division, a criminal division and a court of appeals. It is based in Los Santos, where the Supreme Court Building is located. The system is led by the Chief Justice, currently Agosto Mercati, and the Deputy Chief Justice, currently Arnold McTrevor.
Supreme Court Crisis
Edit
In December 2011, a crisis hit the Supreme Court when Chief Justice Doug Washington was accused of allowing illegal judgement. He was subsequently suspended and later resigned.
Composition and structure
Edit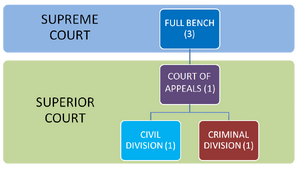 The Court System is organized into two divisions. The Supreme Court is the highest court of appeal as well as the court of last resort in the state. A full Supreme Court bench normally comprises of three judges of which the Chief Justice is always present, however can hear cases
en banc
. The Superior Courts are divided into several geographical districts, of which the "Superior Court of San Andreas, 2nd District" is the largest. It is based in Los Santos.
Each district Superior Court is divided into three divisions -
The Civil Division, which would hear civil and other-than-criminal matters;
The Criminal Division, which would hear prosecutions and other-than-civil matters; and
The Court of Appeals, which hears appeals from the Civil- and Criminal Divisions
Cases heard in the divisions are presided over by one judge.
Members of the Bench
Edit
Being a unified court system, there exists only one pool of judges, divided into the Chief Justices, the Associate Justices and the Assistant Justices.
Federal courts in San Andreas
Edit
San Andreas is also the home of the United States Court of Appeals for the Ninth Circuit, which hears appeals from the United States District Courts of Alaska, Arizona, San Andreas, Guam, Hawaii, Idaho, Montana, the Northern Mariana Islands, Oregon and Washington.
Law Library
Edit
The San Andreas Public Law Library was opened in late January 2015, and is responsible for the indexing and publishing of precedents and related legal information. It is managed by the Superior Court Clerk's Office.
Notable cases
Edit
See Also
Edit
Community content is available under
CC-BY-SA
unless otherwise noted.